Appraise All provides immediate real estate appraisal services throughout San Diego County.  We have extensive experience appraising throughout the county.  We are known as the go-to appraisers for valuating complex and high-end custom beach homes as well as single family residences from San Ysidro to Oceanside.  We cover all of San Diego County.
If you need a quick turn around, please call to order your San Diego Appraisal at 858-232-3348
Below is a list of our typical real estate fees.  Additional complexity fees may be quoted prior to inspection.  Call to obtain an immediate fee quote and we can also let you know our immediate availability.  Same day service is also available.
RESIDENTIAL

Single Family Residence

$400.00 +

~ Over 3000 SF

$500.00 +
+ $100.00 each addtl. 1000 SF

Drive-By 2055 Interior and Exterior

$350.00 +

~ Over 3000 SF

$450.00 +
+ $100.00 each addtl. 1000 SF

Drive-By 2055 Exterior Only

$350.00 +

SMALL RESIDENTIAL INCOME

2 Units

$700.00

3 Units

$800.00

4 Units

$900.00

Forms 216 or 1007

$75.00 each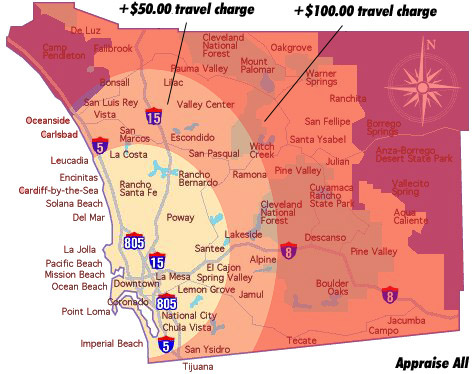 Any properties located in the red shaded areas are
assessed an extra $50 to $100 travel charge