In a 2015 housing industry forecast recently by Trulia noted the Great Recession is still causing a dark shadow over the housing market, but it revealed that three of five major measures used for tracking housing home sales are getting back to a normal state.
This will lead to further home price gains, just on a slower pace.  Affordability will continue to worsen.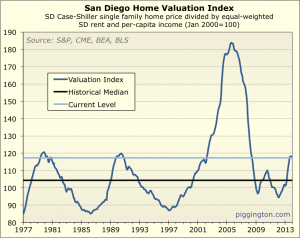 With the price gains of 2014 slowing, Trulia has predicted more of the same for 2015.  It has been especially hard in areas that had a severe housing bust followed by a very large increase in appreciation in the market.  Homes that have appraised in the past during the recession have seen monumental gains in appreciation across the country by real estate appraisers.
Nationwide home prices appear to be around 3 percent undervalued relative to the rest of the economy which leaves fewer bargain and discounted home prices.  There is plenty of room for prices to continue to rise which will cause affordability in San Diego to plummet.
Consumers are also expecting 2015 to be a good year to sell a home and more properties can be added to the mix to possibly curb appreciation and slowing home price gains.  Even small increases in home values could outpace income growth with the strengthening economy possibly leading to an increase in interest rates.
We have seen the San Diego Rental Market report its highest rates of occupancy recently.  This shows that the rental market will continue to stay strong.
Driven by young people moving out of their parents homes and recent job gains for 25-34 year olds should lead to a rise in rental rates.  To help with the market, with all the apartments being built in 2014 should provide ample supply for renters causing homeownership rate to fall.  But given the San Diego rental market still does not have enough inventory to satisfy demand, we will continue to see rental rates rise throughout the county.
Although apartment construction is breaking records throughout the country, single-family housing and new home sales are still only half of normal levels.  We should see an increase in 2015, but the bottom line is that buyer demand for single-family homes hasn't recovered enough to support near-normal levels in single family home sales.
Either way, it might be a great time to buy or sell your real estate in San Diego.  The first step is to get a certified appraisal from a licensed San Diego Appraiser.  Please contact me if you would like to discuss your situation.  Bryan 858-232-3348